Ready to build the home of your dreams in the City of Roses? Working with a custom home builder in Portland means you get a home that fits your lifestyle, personality, and needs exactly. Of course, the process of building a home can be overwhelming, whether you have a good vision in mind or not. You likely have many questions including how much it will cost and which builder to choose.
How much does it cost to build a house in Portland?
The cost to build a home depends on hundreds of factors. Do you already have land, and is it already cleared and graded, or are there factors like a steep hill or soil conditions that will make construction more expensive? Are you building a modest home or a luxury home? Do you want fully custom or semi-custom? How large will the home be?
You can expect to pay between $400,000 to more than $1 million for a 2,000-square-foot home.
What is the average cost per square foot to build a home in Portland?
New home construction usually starts around $250 to $350 per square foot but your cost can be $500 per square foot or higher. The most expensive the materials and finishes and the more complex the construction, the higher your cost per square foot.
Now that you have a general idea of the cost, you're ready to choose the right builder. Here's an overview of the best Portland home builders for tiny homes, steep hill homes, green homes, luxury homes, and more.
Tiny Heirloom | Famous Portland Tiny Home Builder for Luxury Homes on Wheels
Ready to join the tiny home movement? Tiny Heirloom is "the World's Original Custom Tiny Home Company" that proves that Home Is Where You Park It™.
Tiny Heirloom is a one-of-a-kind tiny home builder in Portland specializing in custom, luxury creations. Along with their Signature Series homes that can be personalized, they can help you bring your unique vision to life with a tiny home designed and built from the ground up. Through a collaborative approach, they help you overcome challenges, get the most out of your living space, and bring to life a true work of art.
View this post on Instagram
You can count on their quality materials, unmatched interior design, exteriors designed for the roughest conditions, and innovative solutions to make even the most radical ideas a reality.
Forget everything you know about boring, utilitarian tiny homes and check out their portfolio to see why they're one of the highest-rated custom home builders in Portland!
Tiny Heirloom, 9109 SE 64th Ave, Portland, OR 97206 (503) 836-3934
Renaissance Homes | Award-Winning Home Builders in Portland with 35+ Years of Experience
Founded in 1984, Renaissance Homes has become one of the leading Portland home builders with the awards to show for it. The firm's recent awards include:
2022 National Association of Homebuilders Best Single Family Home Over 4,000 SQ FT
2020 National Association of Homebuilders Best Home in Region (Pacific Northwest)
2020 Oregon Home Structure & Style Award for Single Family Home ($1 to $1.5 million)
54 Street of Dreams awards – 9 more Best of Show awards than any other home builder has ever earned!
View this post on Instagram
Renaissance Homes seamlessly blends indoor and outdoor living with sleek modern and contemporary design, luxury materials, and green building practices. Renaissance Homes will build on your lot or help with land acquisition then work with you through a collaborative approach that uses their award-winning Design Studio process. You'll benefit from:
Upfront pricing
Full-service design studio
In-house design and drafting team
Assistance from a professional designer
Design-build services with site prep, permit management, and more
Renaissance Homes, 16771 Boones Ferry Rd, Lake Oswego, OR 97035 (503) 636-5600
COOPER Design Build | Award-Winning Portland Custom Home Builders Specializing in Modern Design & Green Homes
COOPER Design Build is a full-service design-build firm that makes building your own home in Portland fun, not stressful. Known for their integrated indoor-outdoor living, energy efficient builds, and sleek, modern design, you'll be in complete control of all the details with help every step of the way from a team of experts.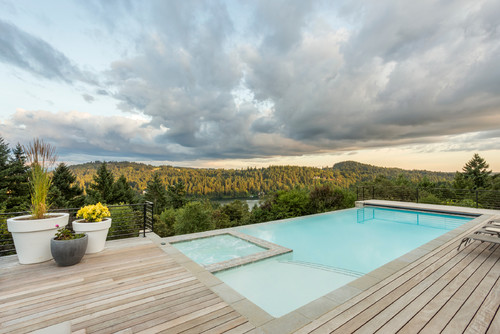 COOPER Design Build has earned a sterling reputation as one of the top home builders in Portland, Oregon with a history going back to 1991 and multiple awards. From transitional and contemporary design to cottages and Craftsman homes, their team of designers, craftsmen, and builders will help you bring your vision to life. Learn more about their custom home building process to see if they're the right Portland luxury home builder for you.
COOPER Design Build, 720 NE Flanders St #200, Portland, OR 97232
(503) 282-0545
Cascade West Development | Luxury Home Builders in Portland Known for Multi-Gen Homes & Modern Design
Cascade West is best known for its lavish, luxury homes and striking architecture, but they do it all. Their focus is on understanding their client's needs and vision and how their clients will use their space. They focus on the details to ensure your home complements your lifestyle. That's why they have won more than 40 industry awards including 2022 Best of Clark County – Luxury Home Builder, 2022 Top Projects Award – Luxury Home, and 2022 Building Excellence Award – New Home $2+ Million.
View this post on Instagram
Cascade West doesn't use tiered packages. Instead, they help you create your own personalized allowances and add virtually any feature you can dream of. Love the idea of a decorative driveway? Building a multi-family home and want an Attached Dwelling Unit (ADU)? What about full-wall sliding or folding glass doors to fully enjoy outdoor living space and views? No matter how you want to use your home, Cascade West will help you develop a concept and innovative solutions that make your home a dream come true.
With one of the best Portland luxury custom home builders, you can depend on their high standards, beautiful craftsmanship, and open-concept customization.
Cascade West Development, 5687 S 6th Way, Ridgefield, WA 98642 (360) 887-2226
Westlake Development Group | Portland's Best Custom Home Builder of the Year with 30+ Years of Industry Experience
Westlake Development is a big name in the industry and one of the premier new home builders in Portland, Oregon. Voted the best custom home builder in Portland two years running, they are known for their custom executive homes, steep slope construction, and dedication to quality, American-made materials.
View this post on Instagram
If you can imagine it, Westlake Development Group can build it. They have spent decades honing their process to give you a rewarding Portland design-build experience. Their team will work closely with you to learn about your needs and wants. They can build on your lot or help you find the perfect spot for a custom home build. You will have a say in every detail with an experienced design team that can help you flesh out any ideas you have or create a custom design based on your inspiration and lifestyle.
With their unique expertise in steep slope construction and earthquake preparedness, Westlake Development Group is the #1 choice if you want a custom home on a steep slope that's built to last.
Westlake Development Group, 17 SE 3rd Ave Ste 321, Portland, OR 97214 (503) 327-8351
Mountainwood Homes | Design-Build Portland Home Builders with an Award-Winning Team
As one of the best Portland custom home builders, Mountainwood Homes brings all the experts necessary for your project to the same table. Their team has a combined 565 years of experience! Project managers, project developers, designers, trade partners, and support staff all work together to realize your vision and make the custom home building experience rewarding and exciting.
Their list of awards includes:
2020 Structure + Style Award (Build: Single-Family Home $1.5 to $2 Million)
Multiple Best of Houzz Design & Service awards
Remodeler of the Year
Guildmaster Award from GuildQuality
BIA Building Excellence Award
Mountainwood Homes delivers an all-in-one solution to building a custom home. Collaborate with their team to explore possibilities, hone the details of your vision, decide all the details, and watch it all come together. Once construction begins, you'll receive regular updates from your Project Manager.
View this post on Instagram
While many variables affect cost-per-square-foot when building a custom home, Mountainwoods Homes usually has a price range of $350 to $500 with the usual home starting at $950,000 – not including land.
Mountainwood Homes, 8324 SW Nimbus Ave, Beaverton, OR 97008 (503) 746-7338
Green Hammer Design Build | Custom Home Builders in Portland, Oregon Specializing in Healthy, Eco-Friendly Design
Are you interested in a home built with sustainable materials? Do you want an energy-efficient home or even better – a net zero energy home? Green Hammer Design Build is one of just 16 firms in the U.S. recognized by American Institute of Architects for meeting the 2030 challenge – a goal of zero net carbon buildings.
Green Hammer Design Build is the leading Portland design build firm for green home construction. Their specialties include:
Certified LEED Platinum homes
Modern Passive House homes
Certified Living Buildings
High Performance buildings
Healthy interior design
Water conservation
Healthy and sustainable materials
With Green Hammer Design Build, you don't have to sacrifice striking design and function for sustainability! Below, you can see exactly what a Green Hammer zero energy home can be.
View this post on Instagram
Green Hammer is your partner to design and build a home that's healthy, sustainable, and strengthens your connection to nature. You can learn more about their green building standards and certifications and their numerous industry awards to learn more about what makes them the best green custom home builder in Portland.
Green Hammer Design Build, 721 NW 9th Ave #195, Portland, OR 97209 (503) 804-1746
Portland Custom Home Builders Map
Have you found the right Portland home builder to bring your vision to life? When you're close to your move-in date, or you're moving into temporary housing during construction, PDX Movers is here to help. Give us a call to discuss your moving plans and get started with a free quote!