Nestled between the Willamette and Columbia rivers, just 60 miles east of the Pacific Ocean, is the progressive city of Portland, Oregon. The city is home to 652,573 residents, and the greater Portland area has a population of almost 2.4 million people. Portland's climate is defined as warm-summer Mediterranean, with warm, dry summers and cold/wet winters. Much of Portland's climate is influenced by its proximity to the ocean and low altitude.
It's a common misconception that weather and climate have the same meaning. Although the two go hand in hand, they are very different. Weather refers to the atmospheric conditions on any given day, while climate is the average weather over a longer period of time. When you're planning to relocate to a new city, it's a good idea to research both. Portland has a reputation for being overcast, but there is plenty of great weather to enjoy throughout the year!
Portland Seasons
Though the Pacific Northwest is known for its rainy and overcast weather, Portland experiences warmer temperatures, more sunshine, and less precipitation than other big cities in the area. If you're relocating to Portland, you can expect to enjoy four distinct seasons throughout the year and very little harsh weather. Fall in Portland begins mid-September to mid-November. Portland's winters start in mid-November and end in mid-March. Spring in Portland starts in mid-March and ends in June. Summer starts in July and ends in mid-September.
Winter in Portland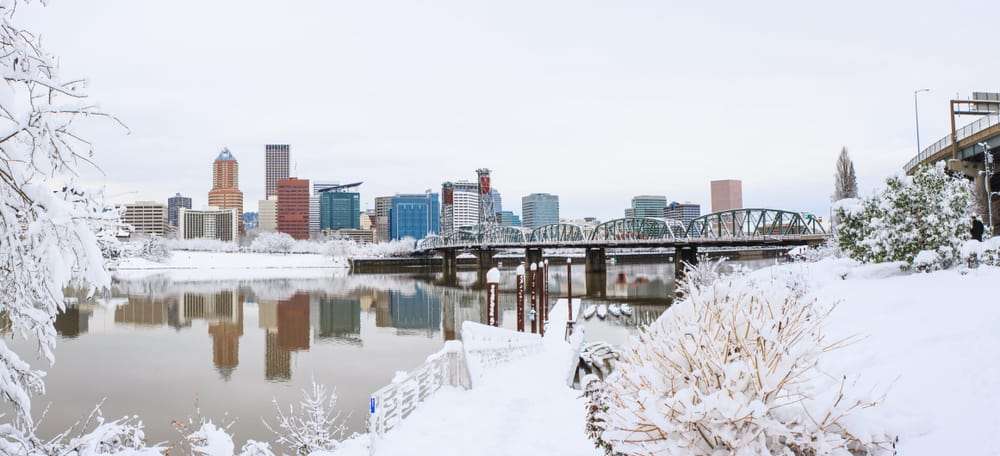 Winters in Portland are usually cool, rainy, and cloudy. December is Portland's coldest month, averaging daily high temperatures of 46.3°F. Daytime temperatures dropping below freezing is rare in Portland, and even overnight low temperatures tend to stay above freezing. Portland receives an average of 4.3" of snow annually, usually between December and March.
Spring in Portland
Temperatures can fluctuate a lot during spring in Portland. Some days, cold fronts can drop daytime temperatures into the 40s. On other days, high pressure ridging can cause daily highs to rise into the 80s. There can be long stretches of overcast weather and light rain, but severe storms are rare.
Summer in Portland
Summer in Portland is ideal! It's during the summer that the roses are in bloom all over the city and surrounding suburbs. Weather is warm, sunny, and dry with only about 4" of rain falling between June and September. The big temperature fluctuations of springtime disappear, and high temperatures stay in the high 70s-low 80s. Heat waves are rare in Portland, and only a few days a year will temperatures exceed 90°F. 
Autumn in Portland
Autumn is similar to spring in Portland, with fluctuating temperatures and long periods of overcast, drizzly days.
Monthly Weather in Portland
Curious about monthly weather in Portland? Throughout the year, Portland's weather can change a lot from one month to the next!
January
January is an overcast and rainy month in Portland. The city receives almost 5" of rain on average, and only about 3 hours of sunshine a day. Snow falls occasionally, but rarely more than an inch. Temperatures range from 36°F to 46.9°F.
February
The Portland weather warms up a bit in February, with temperatures ranging from 36°F to 51.1°F. Snowfall increases to 2", and though it's still overcast most of the time, the sun shines a little longer in February – about 4 hours a day. You can expect high humidity in February as well – up to 78%.
March
Temperatures keep climbing in March, with daily highs ranging from 39.9°F to 57°F. The start of spring brings some unpredictable weather ranging from warm to chilly to rainy. Portland receives about 3.7" of rain in March, but humidity drops and the sun shines for about 6.5 hours every day.
April
Skies get a little clearer in April, with 7.5 hours of sunshine a day, and only 2.7" of rain falling throughout the month. High temperatures fall between 43°F and 61°F. Color begins to come back to Portland in April as the flowers begin to bloom.
May
May brings more sun to Portland – almost nine hours a day! The month is mostly clear skies and sunshine, with daily temperatures from 48.9°F to 68°F. Only 2.5" of rain falls on the city, and usually in brief morning or afternoon showers – no more long stretches of dreary days!
June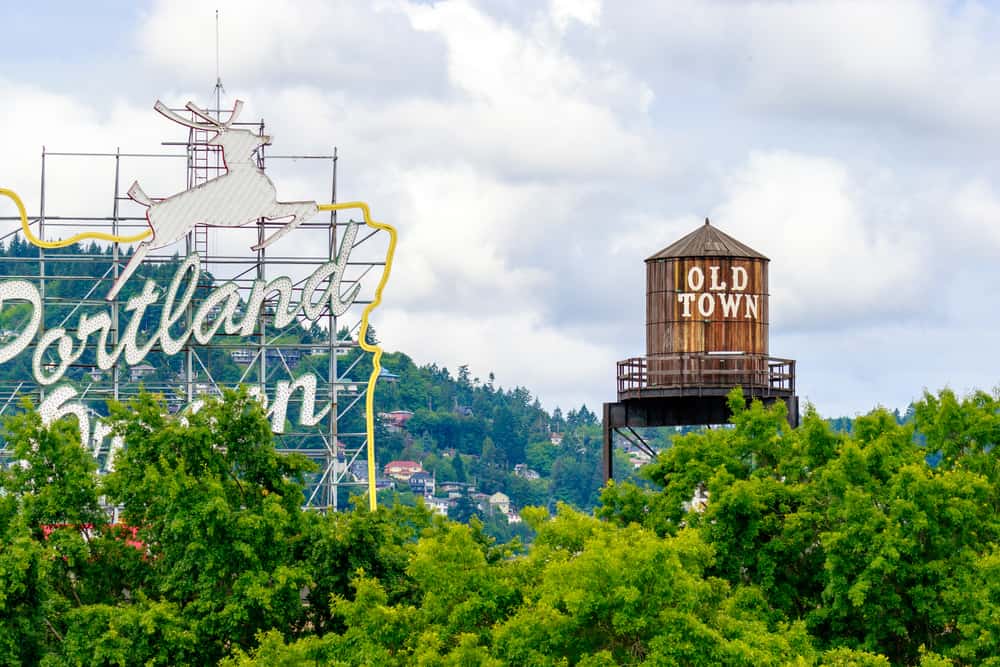 June begins the most ideal time of year in Portland. Less than 2" of rain falls on the city, and the sun shines for 10 hours a day. Average daily temperatures range from a cool 54°F to a comfortable 73°F. The roses are in full bloom in June, so it's a great time to get outside and explore the city!
July
Get ready for some sunshine! July in Portland is sunny and dry, with almost 11 hours of sunshine a day and only 0.6" of rainfall. Humidity is a comfortable 62.8%, and temperatures stay around 80.6°F. July is warm, but the temperature only reaches 90°F a few days – rarely up to 100°F. Skies are mostly clear, so Mount Saint Helens and Mount Rainier are in full view.
August
August is Portland's hottest month, with average daily highs of 81.1°F. There are less than 4 rainy days in August, and only 0.67" of rain accumulates. The sun shines for about 10 hours a day, so get outside while it's clear!
September
September is still pleasant in Portland, with eight hours of sunshine a day and only 1.5" of rain over the course of the month. The leaves start to change toward the end of the month, bringing another beautiful splash of color to the area. There's an occasional cold front in the area, but temperatures tend to remain mild, with daily highs ranging from 53.1°F and 75.9°F.
October
The overcast weather begins to return to Portland in October. Temperatures fall to 46°F to 64°F daily highs, and evenings are cooler. Humidity returns as well, reaching an average of 78%. October sees 13 rainy days and about 3" of rainfall, and the sun only shines about 5 hours a day. It's not all grey though – the fall leaves are beautiful in October!
November
November is a dreary month in Portland. It's the wettest month, with 5.6" of rain falling on the city and sunshine only lasting for about 3 hours every day. Temperatures are shilly, ranging from 39.9°F to 52°F, and may drop below 35°F at night.
December
The overcast weather continues into December, Portland's coldest month; temperatures range from 35.1°F to 45°F. Toward the end of the month, temperatures may fall below freezing at night. Portland experiences a lot of precipitation in December too, to the tune of 5.5" of rain and 1.3" of snow. Humidity rises to 83%, and the sun shines for just 2 hours a day.
Annual
Rainy days: Portland averages 154.5 rainy days a year
Annual rainfall: Portland receives about 8" of precipitation annually, while the average yearly rainfall in the continental US is 30.2".
Annual snowfall: Portland receives about 4.3" of snow a year
Portland Weather Hazards
In general, the Pacific Northwest is susceptible to earthquakes. Multiple fault lines lie beneath the Portland metropolitan area, which experts say could be hazardous to the city if an earthquake were to strike. Portland is susceptible to earthquakes, the most notable being a 6.8 magnitude earthquake in 2001. Prior to that, the area experienced a 5.6 magnitude earthquake in 1993. In the event of a major earthquake, there are areas of Portland that are high-risk for landslides.
Mount St. Helens is visible on clear days in Portland, and dusted the city with ash when it last erupted in 1980.
Portland Weather Extremes
Coldest month: December is the coldest month in Portland, with an average high temperature of 45.7°F
Warmest month: August is the warmest month in Portland, with average highs temperature of 81.1°F
Rainiest month: November is the wettest month in Portland, with 19 rainy days and an average of 5.63" of precipitation
Driest month: July is the driest month in Portland, with only 4.1 rainy days and an average of 0.65" of precipitation
Most humid month: December is the most humid month in Portland, with an average of 82.7% relative humidity
Least humid month: July is the least humid month in Portland, with 62.8% average relative humidity
Portland record high temperature: 107°F
Portland record low temperature: -3°F
Best time to visit Portland
Thinking of vacationing in Portland? The optimal time of year to visit Portland is from June to August. Portland summers are dry with clear skies and pleasant temperatures. Summers are also when the city's roses are in full bloom, and Portland is alive with color. 
Are you researching Portland's climate because you're planning to relocate to the area? Our experienced, trustworthy Portland movers are ready to assist you! Call PDX Movers to discuss your move today!