Among the best things to do in Portland, on the west side of the Willamette River, you'll find the Portland Japanese Garden. It stands among the most fascinating places to visit in the city and will have visitors from all around the world in awe of its beauty.
Check out the ultimate guide to the Portland Japanese Garden so you can plan ahead and know what to expect before you arrive for your visit.
History of the Portland Japanese Garden
Following World War II, people in Oregon had a deep desire to heal ties between the U.S. and Japan that had long been broken. During the late 1950s, the city of Portland mayor, Terry Schrunk, decided to continue a growing trend that was happening across the country and commissioned an individual to create a Japanese garden in Portland within the spot that was once a zoo.
Wondering who designed the Portland Japanese Garden? Professor Takuma Tono of Tokyo Agricultural University was given the opportunity and chose to incorporate five unique styles as a means of showcasing historical changes within Japan.
Originally spanning 5.5 acres, the garden was completed and officially opened in the year 1967. It was only kept open during the summertime until 1981 when it was decided to remain open all year long.
How to Get to the Portland Japanese Garden
Located in Portland's Washington Park, it is often suggested to take local transit options like the TriMet bus #63 or Red or Blue line MAX train in order to avoid the inconvenience of parking your own vehicle.
But whether you decide to drive yourself, ride a bike, or even take the free Washington Park shuttle, you can find detailed directions on how to get to the Portland Japanese Garden here.
Portland Japanese Garden, 611 SW Kingston Ave, Portland, OR 97205
Best Things to Do in the Portland Japanese Garden
With nearly 12 acres of ground to cover after new add-ons and enhancements have been made, you won't have to worry about having limited things to do or see around the property. Thousands of people visit every year and each time they can experience something new.
1. The Main Garden Spaces
While the area originally started with only five gardens, a couple of expansion projects have increased that number over the years. Each garden tells a story about a specific piece of Japanese history and culture, making it feel like you're stepping into a new world each and every time.
The main gardens now include:
Entry Garden
Sand and Stone Garden
Natural Garden
Flat Garden
Strolling Pond Garden
Tea Garden
Tsubo-Niwa
2. Kashintei Tea House
Before the garden opened, the Kashintei Tea House was built in Japan and then shipped to Portland in pieces to be built on-site. Held within the Japanese Tea Garden section, it represents a culturally accurate tea house with the rooms modeled in the same way you'd find them overseas. Cultural demonstrations are held in the structure to show how a tea ceremony is held from beginning to end.
3. Ellie M. Hill Bonsai Terrace
As one of the few things that are constantly changing across the gardens, the Ellie M. Hill Bonsai Terrace showcases bonsai trees and other miniaturized plants that are placed along hand-carved benches, platforms, and other displays. Return visitors can expect to see new specimens in this area as they are frequently cycled.
4. Cultural Village
Among the handful of additions that have been integrated into the Japanese Garden in Portland, the Cultural Village has been one of the biggest. Designed by a world-renowned architect named Kengo Kuma, the village includes a gallery, library, courtyard, café, and more.
5. Art in the Garden
Spread throughout the year, seasonal art exhibits are frequently held in and around the Portland Japanese Garden. Featuring art from both local painters and Japanese artists, it allows the two cultures to blend and mesh even further. The exhibits include paintings, sculptures, pottery, woodwork, and other types of art.
Great Places to Eat in and Around the Portland Japanese Garden
Food and picnics are not permitted as you wander through the garden. The only things guests are allowed to bring in are water bottles.
But if you get hungry during your visit, there is one restaurant on site where you can get some great food. Within the Cultural Village area, you'll find the Umami Café with a beautiful selection of Japanese teas and fine cuisine. Choose from an assortment of light snacks such as the Ochazuke rice dish or have a larger serving of a fried rice bowl.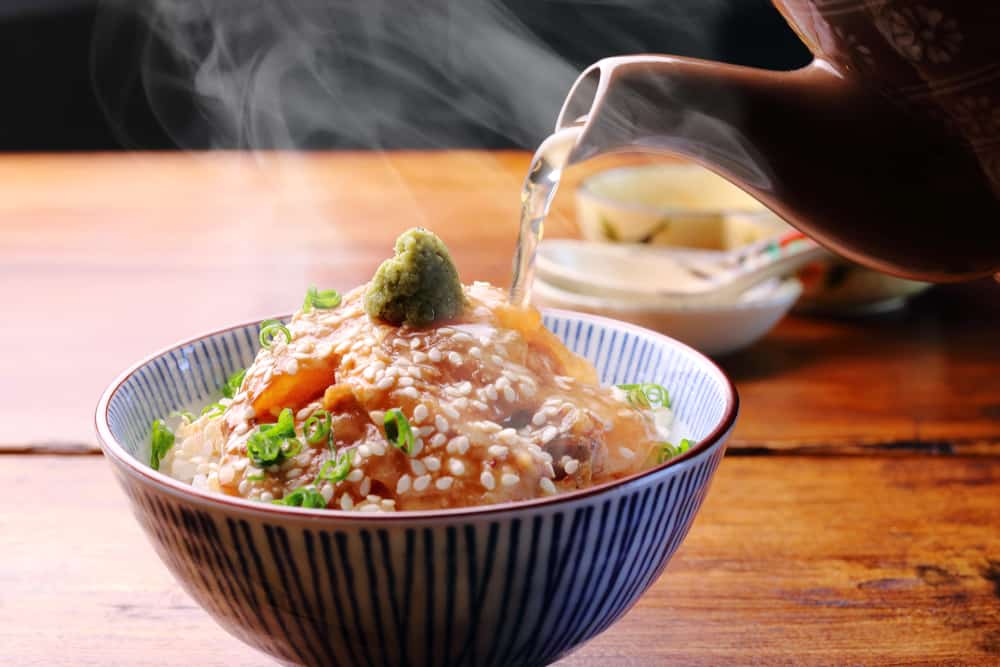 For those who would like to eat somewhere else before or after their visit to the Portland Japanese Garden, there are a variety of great restaurants close by. Head over to the classy and refined RingSide Steakhouse, the modern bistro at Carina Lounge, or stop by Thai Bloom! for classic Thai cuisine.
When to Visit
Whether you want to visit the Portland Japanese Garden in the fall, during summertime, spring, or even winter, you'll be able to experience spectacular sights. There is truly no wrong time to go, depending on the type of sites you want to see.
You can visit during the month of June to experience the annual Rose Festival, during spring to see cherry blossoms, in the summer to encounter vast amounts of greenery, and during the fall to see every autumn color you can imagine.
View this post on Instagram
On average, you should plan on about two hours to have enough time for wandering the gardens. Both public and private guided tours are available to gain key insight into the history and fascination behind the various areas across the property. The guides are highly trained experts who will be able to answer your questions and lead you through the most intriguing sections.
Portland Japanese Garden Hours:
Between October 1 – March 10
Monday: 12pm – 4pm
Tuesday-Sunday: 10am – 4pm
Between March 11 – September 30
Monday: 12pm – 7pm
Tuesday-Sunday: 10am – 7pm
The garden is closed on Thanksgiving Day and Christmas Day.
What Does Visiting the Portland Japanese Garden Cost?
While admission was $0.50 for adults and half that for college students back in the 1960s when it first opened, those prices have risen to be more fitting for modern times. Their current pricing is as follows:
Adults: $16.95
Seniors (65+): $14.50
Students (with ID): $13.50
Youth (6-17): $11.50
Children (5 and under): Free
Members: Free
Also, if you plan on bringing a tripod for your camera, you can expect to pay an additional $10. While seasonal events are subject to their own additional costs as well.
Don't Miss Out on this Incredible Portland Gem!
Easily among the best things to do in Portland, the Japanese Garden is beautiful and captivating enough to make anyone's jaw drop to the floor. From the gardens and the café to the guided tours and incredible art exhibits, this place will also always leave you wanting to come back for more. And with a new look every changing season, you'll never get bored of visiting.
Are you looking into the Portland Japanese Garden because you are relocating to Portland soon? We're always excited to serve new locals with our top-rated team of Portland movers! Give us a call today at (503) 746-8795 to learn about our relocating services or complete the form on this page for a free moving estimate!