The first settlers arrived in what was then simply known as the Willamette Valley back in 1839. Locals who set their roots in this area had it to themselves for a few years until larger groups began to arrive in the early 1840s. The city still grew slowly for some time until it was incorporated in 1913 as West Linn and eventually merged with the nearby town of Willamette a few years later in 1916.
West Linn is considered part of the Portland metro area but has a comfortable enough distance between them to avoid the hustle and bustle of the big city. Instead, residents enjoy a quiet lifestyle in a safe community, with plenty of local amenities.
One look at the city will help anyone understand why people keep moving to West Linn. Check out this guide to see what is has to offer, so you can fall in love with this charming town too.
1. People of West Linn, OR
Locals love the fact that West Linn has been ranked among numerous Best Places to Live lists over the years. The city is a comfortable safe haven for all who live there and plays a major role in its continuous growth. The current West Linn population is around 26,300 people, a number that is up more than 10,000 since the 1990s.
The city has an average age of 42 years old and stands as a great place for both young families as well as people looking to retire. West Linn is also one of the most affluent cities in the area with a median household income which is over $100,000 per year.
2. Finding Place of the Largest Meteorite in North America
Back in 1902, a man by the name of Ellis Hughes discovered a remarkable find in what is now West Linn. A 32,000-pound meteorite which had slowly made its way down to the area over centuries during the Missoula Floods. After trying to sneak it onto his own land, Hughes was caught and ended up losing a lawsuit where the Oregon Iron and Steel Company was dubbed ownership.
View this post on Instagram
Made up of more than 90% iron, other materials within the meteorite include nickel, cobalt, and phosphorous. Now known as the Willamette Meteorite, it is currently on display in New York City's American Museum of Natural History.
3. Things to Do & Restaurants in West Linn
Are you interested to see if there are any fun activities or other things to do in West Linn? Along the Willamette River, you'll find gorgeous views and easy-going walking trails within the 128-acre Mary S. Young Park. And speaking of the river, you'll also find Willamette Falls nearby, which is the Northwestern United States' largest waterfall.
Mary S. Young Park, 19900 Willamette Dr, West Linn, OR 97068
View this post on Instagram

Willamette Falls, 102 McLoughlin Blvd, Oregon City, OR 97045
Ready to try some of West Linn's top restaurants? Then grab some food after a long day at the office or day out with the family? Head over to Lá Sen Vietnamese Grill for a variety of dishes straight out of Vietnam including chicken, pork, rolls, and pho. Or visit J. Willy's Public House and Eatery to enjoy some delicious appetizers, pizzas, sandwiches, and other great entrees.
View this post on Instagram

Lá Sen Vietnamese Grill, 565891, West Linn, OR 97068
J. Willy's Public House and Eatery
View this post on Instagram

J. Willy's Public House and Eatery, 1717 Willamette Falls Dr, West Linn, OR 97068
4. West Linn, OR Cost of Living
Wondering about the cost of living in West Linn? While your groceries and healthcare will be slightly lower than Oregon state averages, things like local housing and transportation hold a significantly higher expense for your budget.
At this time, the average price of a home in West Linn is $547,600. That is up about 2% since the same time last year but isn't expected to rise much more in the next 12 months. You won't have to look far to find gorgeous homes for sale in West Linn.
Are you planning on renting in the area as opposed to purchasing your own home? You'll find the average price of rent in West Linn is presently between $1,354 per month for a one-bedroom location and up to $3,241 per month for a five-bedroom. These rates are about 30% higher than the average in the surrounding Portland metro area.
5. A Variety of Great Neighborhoods to Choose From in West Linn
But if you're wondering why it's a bit more expensive to live here, that's because West Linn neighborhoods have been named as part of one of the safest cities in Oregon multiple times. A quick tour around town will lead you to some great communities such as Marylhurst on the northern border near Oswego Lake.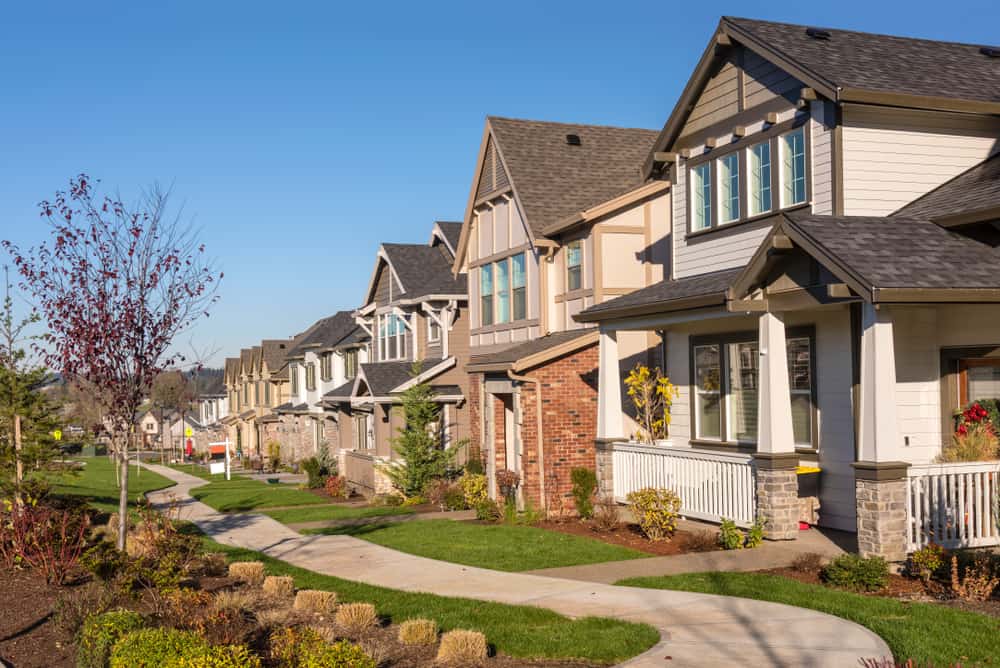 Other great options include Parker Crest in the center of the city with the community of Savanna Oaks directly south of it. As well as Bolton and Sunset on the east side, closest to Oregon City. Willamette is another great neighborhood on the south side of town along the river.
West Linn is part of Clackamas County and zip codes of 97034 and 97068. The main West Linn area code is 503.
6. Schools in West Linn
With nearly 5,000 school-age children living in the city, West Linn schools are part of the West Linn-Wilsonville School District. Younger students can attend campuses such as Stafford Primary School, Willamette Primary School, Bolton Primary School, or Rosemont Ridge Middle School for those in junior high.
West Linn High is the city's only high school with Lions as their mascot. The local school ranks 4th in the state for academics with an AP class participation rate of nearly 80%. There aren't any local colleges, but high school graduates do have the option to attend multiple secondary schools in Portland and other nearby cities.
7. Jobs in West Linn
Though the city itself is fairly small and many locals commute to Portland for work, you'll still find a handful of good West Linn jobs in town. One of the largest employers is the West Linn Paper Company, followed closely by the city's local government offices. Both primary schools and the high school provide great opportunities for educators as well.
If you are planning on living in West Linn but expect to commute to Portland, you'll only be driving about 12 miles to get into the big city.
8. West Linn Weather
The weather in West Linn is likely what you'd expect from a suburb so close to Portland. Naturally, you can anticipate a fair amount of rain with at least 45 inches falling each year.
When it comes to seasonal changes, you'll find summers are fairly short but offer dry, warm temperatures between the mid-50s and mid-80s. While as the year gets closer to winter, the climate gets cold and wet with average temps between the mid-30s to upper 40s.
Tips for Moving to West Linn, OR
A city recognized as one of the best places to live multiple times.
Amazing local parks and breathtaking views of the largest waterfall on this side of the country.
Incredible homes, though they come with a matching price tag.
Family-friendly neighborhoods with top-ranked schools.
Lots of job options both in the city as well as with a short Portland commute.
Now that you know exactly what to expect from living in West Linn, are you ready to relocate? PDX Movers is a top-rated moving company with substantial experience serving Portland and its suburbs. If you want a move that is fast, affordable, and easy, we're the team to make it happen!
Give the best movers in West Linn call today at (503) 746-8795 to learn more about our moving services or get a free estimate by filling out the Request a Quote form at the top of this post!