Just 20 miles west of Portland is the bustling city of Hillsboro, the fourth largest city in the seven-county metro area and the fifth largest city in Oregon. Hillsboro is a unique community: both a thriving cultural and economic hub with a prevalent tech and manufacturing sector and a charming agricultural community surrounded by the natural beauty of Tualatin Valley.
Hillsboro is known for its craft breweries and gastropubs, Silicon Forest tech giants, beautiful parks, and major attractions. It has something for everyone – that's why it's been voted one of the 50 Best Places to Live in the U.S. and the #1 Best Place to Live in Oregon. Here's why you'll love living in Hillsboro Oregon!
Where Is Hillsboro Oregon?
Hillsboro is in Washington County, Oregon in the Tualatin Valley along the Tualatin River. It's a western suburb of Portland and bordered by the cities of Beaverton and North Plains and several unincorporated communities:  Aloha, Cornelius, Reedville, Scholls, and West Union. It's 17 miles from Hillsboro to Portland.
Hillsboro Oregon Population & Demographics
The population of Hillsboro is 106,447 according to the 2020 census, up from 91,611 in 2010, with a population density of 4,147 people per square mile. The Portland–Vancouver–Hillsboro metro area covers seven counties in Washington and Oregon with a population of 2.5 million.
Hillsboro is an affluent city with a median household income of $91,540, far above the median of Portland ($79,000) and Oregon ($71,500).
Additional Hillsboro demographics:
Median age: 34.8
65 and older population: 11% (Oregon: 16%)
Sex ratio: 50 males to 50 females over 18
Foreign-born population: 19% (Oregon: 10%)
Educational attainment: 43% bachelor's degree or higher
Homeownership rate: 50% (Oregon: 64%)
Racial and ethnic composition: 64.5% white (54.2% non-Hispanic), 23.9% Hispanic, 11.9% Asian, 3.0% Black or African American, 1.2% American Indian and Alaska Native, and 11.1% two or more races.
Getting Around Hillsboro | Public Transit, Highways & Airport
The Tualatin Valley Highway (Oregon Route 8) is the main artery of the city running east-west to Beaverton, Forest Grove, and Cornelius. Other major roadways include the Sunset Highway (US Route 26) in the northeast, Main Street and Cornell Road (east-west), and Oregon Route 219, 10th Avenue, Brookwood, and Cornelius Pass Road (north-south).
Hillsboro is well-served by public transportation despite its size. While living in Hillsboro OR, you'll find it easy to get around thanks to the MAX Blue Line light rail service which connects Hillsboro with Beaverton, Portland, and Gresham. Bus service is managed by TriMet with over 80 bus lines serving metro Portland, many connecting with MAX light rail, WES commuter rail, and the streetcar and aerial tram in Portland.
The Portland International Airport (PDX) is just 33 miles outside Hillsboro with over 60 nonstop destinations.
Cost of Living in Hillsboro Oregon
The Hillsboro cost of living is 21% above the national average and higher than the Oregon average cost of living. Groceries are close to average for the country with affordable health care and utilities, the latter of which is about 17% below the national average. High housing costs are the biggest factor making Hillsboro an expensive place to live.
According to the MIT Living Wage calculator, the living wage for the Portland – Hillsboro metro area is $20.84 for a single adult with no children, $46.95 for a single adult with two children, and $26.52 for a family of four with two working adults. This assumes $8,615 in annual child care costs per child.
The Economic Policy Institute's Family Budget Calculator estimates a monthly cost of living in Hillsboro, OR of $8,612 or $103,344 for a family of four.
Hillsboro Oregon Real Estate & Rental Market
As you prepare for moving to Hillsboro, it helps to know what to expect from the housing market. Portland is America's 12th most expensive large metro area in large part due to high home prices. Between 2021 and 2022 alone, the Portland metro area median home price rose over 15% from $440,000 to $509,000.
The median home price in Portland is $500,000, down just 1.8% year-over-year, and the Hillsboro real estate market mirrors it. The median price of houses for sale in Hillsboro Oregon is $502,500, down 1.5% year-over-year. You'll pay an average $292 per square foot. You can explore homes for sale in Hillsboro OR to get an idea of what you can afford within your budget.
At the start of 2023, there were up to 40% fewer homes for sale in Hillsboro year-over-year. This low inventory has kept prices high, especially combined with interest rates climbing and inflation. Home starts have also dropped to almost nothing. As a home buyer, expect competition with the average home receiving two offers and almost one-third of homes selling above list price.
What can you expect as a renter living in Hillsboro? The average rent in Hillsboro Oregon is $2,057 according to Rentcafe. That's about $300 more than the average rent in Portland ($1,779) and Vancouver ($1,715).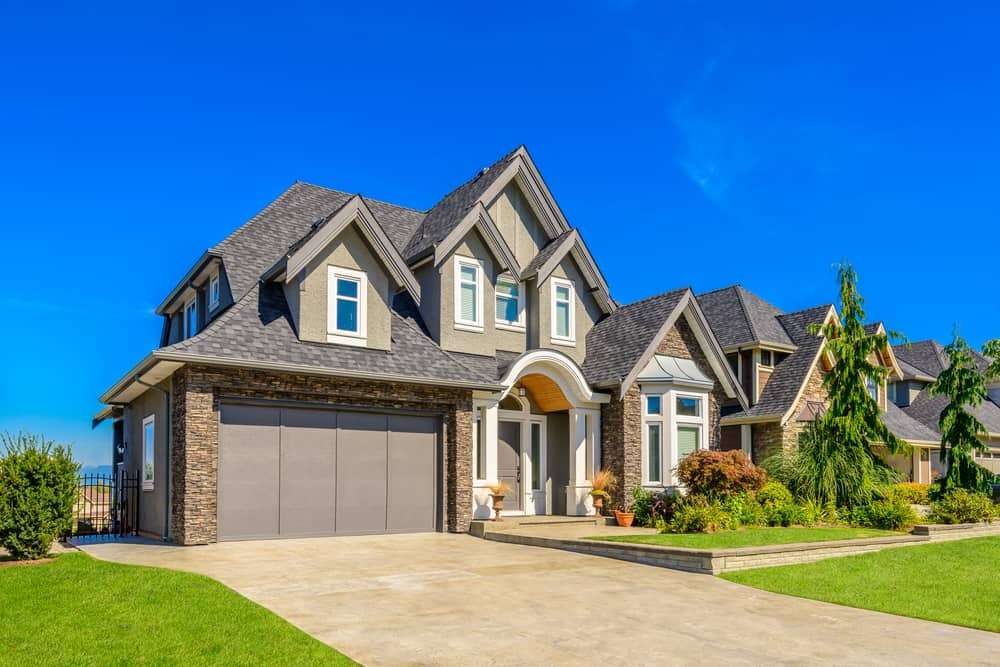 Hillsboro Neighborhoods
Ready to explore the best neighborhoods in Hillsboro Oregon? The city has a number of designated special plan areas, each with smaller neighborhoods to explore. From densely populated and walkable urban neighborhoods to family-friendly communities with plenty of space, you'll find many options to fit your lifestyle.
AmberGlen on the east side is home to the Oregon Health & Science University campus. This vibrant, pedestrian-friendly neighborhood is served by the light rail system and popular with students, researchers, and academics. It's also home to the Beaverton Academy of Science and Technology, a highly rated magnet school.
Want to live at the center of the action? The downtown Hillsboro neighborhood offers exciting urban living with galleries, museums, theaters, and restaurants all within walking distance. There are many luxury apartments for rent in Hillsboro's downtown area including 206 Apartments and 4th Main Apartments.
Once a company town, the Orenco neighborhood is a compact neighborhood known for its parks and walkability. The community is nestled between Orenco Woods Nature Park and Noble Woods Park and home to 53rd Avenue Community Park with tons of outdoor activities for residents. You'll find a variety of newer subdivisions and apartments in the area.
Hillsboro OR Weather & Climate
After moving to Hillsboro, Oregon, you'll enjoy a warm-summer Mediterranean climate with warm and dry summers, wet winters, and frequent clouds and rain.
It can snow in Hillsboro from December through mid-February with an average of 2" of snowfall in January. Hillsboro gets just 3" of annual snow compared to the U.S. average of 28". You'll get about 39" of annual rainfall, just over the national average, so make sure you invest in a good raincoat!
Best Restaurants in Hillsboro
Hillsboro is known for its many gastropubs and craft breweries along its eastern edge. You'll also find an array of excellent Hillsboro restaurants to explore with cuisine options ranging from Japanese, Lebanese, and Mexican to grills, hamburger joints, and steakhouses.
This comfortable American restaurant comes from the team behind the popular Portland restaurant, Oswego Grill. Enjoy 52 local craft beers on tap plus wine and cocktails and a diverse menu with everything from American comfort food and grilled salmon to burgers and sandwiches.
Copper River Restaurant & Bar 7370 NE Cornell Rd, Hillsboro, OR 97124 (503) 640-0917
This hip Japanese gastropub is one of the most popular downtown Hillsboro restaurants with sushi, noodles, and their famous sake flights.
Syun Izakaya, 209 NE Lincoln St, Hillsboro, OR 97124 (503) 640-3131
View this post on Instagram
Thirsty Lion Gastropub
Located in the Streets of Tanasbourne shopping center, Thirsty Lion is one of the most popular gastropubs in Hillsboro. Enjoy a huge menu of American dishes and craft beer in a European-inspired pub setting.
Thirsty Lion Gastropub, 2290 NE Allie Ave, Hillsboro, OR 97124 (503) 336-0403
Things to do in Hillsboro
There are seemingly endlessly things to do in Hillsboro Oregon for outdoor enthusiasts, music fans, beer enthusiasts, and thrill-seekers. It's at the start of the 50-mile Tualatin Valley Scenic Bikeway which winds through wetlands, old growth forests, and farmland and boasts amazing fishing, hiking, and boating opportunities. There's a growing Hillsboro craft beer scene not to mention the many wineries like Oak Knoll Winery and Helvetia Vineyards. You'll also find regular events in Hillsboro for all ages like the Washington County Fair, Lightopia, OrenKoFest, and the Oregon International Air Show.
While living in Hillsboro, you'll also enjoy the many community activities and programs offered by the Hillsboro Brookwood Library and Hillsboro Parks and Recreation which manages 35 parks in the city.
Here are some ideas for what to do in Hillsboro Oregon to get you started!
Top Hillsboro Attractions
Topgolf Hillsboro is a huge entertainment venue with a lounge, drinks, and a high-tech driving range with solo and group games. The only Topgolf in Oregon!
K1 Speed offers indoor go-karts plus a lounge and restaurant, arcade games, billiards, and air hockey.
Westside Commons is a 100-acre events campus and home of the annual Washington County Fair.
Hillsboro Museums, Entertainment & Arts
View this post on Instagram
Hillsboro Parks & Outdoors
Shopping in Hillsboro
The Streets of Tanasbourne is an upscale indoor-outdoor shopping center with major retailers, boutique shops, and restaurants.
Sunset Esplanade is one of the largest Hillsboro shopping centers with anchor tenants including Target, Ross, Safeway, and Petco.
Hillsboro Sun West Shopping Center off Tualatin Hwy is anchored by WinCo Foods and Harbor Freight Tools with the Hillsboro DMV, restaurants, and other retailers.
Hillsboro Sports
Hillsboro, Oregon may not be a very large city, but it's home to two professional sports teams: the Hillsboro Hops of the Minor League Baseball's Northwest League, and the Portland Timbers 2 of MLS Next Pro who play at the Hillsboro Stadium. The 7,000-seat stadium is part of the Gordon Faber Recreational Complex (GFRC).
The city has two other sports complexes: the Fairgrounds Sports Complex next to the Westside Commons and the 53rd Ave Sports Complex with lighted courts and a seasonal splash pad.
Hillsboro Crime – Is Hillsboro Oregon Safe?
Hillsboro is a safe place to live with crime well below the national average. The Hillsboro crime rate is 2,163 crimes per 100,000 with 231 violent crimes and 1,923 property crimes per 100,000. By comparison, the national average crime rate is 2,346 crimes per 100,000 and the Oregon crime rate is 2,951 crimes per 100,000.
The Hillsboro, OR crime rate is 8% below the national average with 40% less violent crime.
After moving to Hillsboro, you will be served by the Hillsboro Police Department which has 127 sworn officers.
Jobs in Hillsboro OR
While living in Hillsboro, Oregon, you'll find plentiful job opportunities, especially in high-tech and manufacturing. About 13% of Oregon's manufacturing jobs are in Hillsboro (which account for 25% of all Hillsboro Oregon jobs) and it's a major employment center with many Silicon Forest companies like Intel which has three campuses in the city. The Hillsboro Airport (HIO) is Oregon's second busiest airport and home to 25 businesses with the aircraft operation facilities for Nike and Intel.
View this post on Instagram
Health care, retail, and agriculture, particularly wineries and grapes, are also important to the local economy. With Portland less than 30 minutes away, many people living in Hillsboro commute to Portland for additional employment opportunities.
Major employers in Hillsboro include:
Intel (careers)
Kaiser Foundation Hospital-Westside
Hillsboro School District (careers)
Washington County (careers)
Nike
Tuality Community Health
Qorvo
City of Hillsboro (jobs)
Tokyo Electron America
Thermo Fisher Scientific
Genentech
Acumed
Synopsys
Epson
Salesforce (careers)
The average salary in Hillsboro is $84,000 per year or $21.65/hour according to Payscale.
Here's what you can expect to earn in common occupations:
Software engineer: $104,000
Mechanical engineer: $75,000
Operations manager: $66,500
Office manager: $18/hour
Maintenance technician: $27/hour
Registered Nurse: $40/hour
Before moving to Hillsboro OR, you can explore jobs on Indeed.
Hillsboro Public Schools & Higher Education
While living in Hillsboro Oregon, you will be served primarily by the Hillsboro School District (HSD) with some areas served by the Beaverton School District. There are 26 elementary schools in Hillsboro Oregon as well as four middle schools, four high schools, and City View Charter School. Two of the city's high schools, Liberty and Century High School, are ranked among the top 50 high schools in Oregon.
Families can also choose from many private schools in Hillsboro such as Tualatin Valley Academy, Carden Cascade Academy, and faith-based options like Faith Bible Christian School and St. Matthew Catholic School.
Pursuing higher education? The west campus of Oregon Health & Science University (OHSU) and the satellite Health Professions Campus of Pacific University in downtown Hillsboro are the closest options. The University of Portland and other private universities are also within 30 minutes.
Hillsboro Information
County: Washington
Area: 25.86 sq mi
Elevation: 194 ft
Hillsboro zip codes: 97123, 97124, 97006
Area codes: 503, 971
Time zone: UTC-8 (PST)
Is moving to Hillsboro Oregon in your future? Count on PDX Movers for a stress-free relocation. Call our 5-star Hillsboro movers today for a free, personalized moving quote and get settled into your new home in no time!