The suburban city of Happy Valley, OR is located in Clackamas County about 10 miles southeast of downtown Portland. Happy Valley is bordered by Damascus, Gladstone, Gresham, Johnson City, Milwaukie, Oregon City, West Linn, and Wood Village.
What is now called Happy Valley was first settled by Christian and Matilda Deardorff in 1850 and named Christilla Valley, a combination of the founders' names. Members of the original community also called the area Deardorff Valley and Deardorff Settlement at various times. The city was officially incorporated as Happy Valley in 1965.
Happy Valley is most known for being the location of an extinct volcano called Mount Scott, which is the highest point in the area at 1,050 feet tall.
A few notable people have called Happy Valley home such as actress Hailey Kilgore and American basketball player Nigel Williams-Goss.
1. People of Happy Valley, OR – Population & Demographics
How many people live in Happy Valley, OR? The area was fairly small for the first few decades but during the late 1990s, hundreds of people began relocating to Happy Valley as it became one of the fastest-growing cities in the state of Oregon. The current Happy Valley population is 20,971 with a median age of 39 years old
A look at Happy Valley demographics shows growing diversity with about 66.5% White (63.6% non-Hispanic), 19.9% Asian, 6.4% Hispanic, and 1.4% Black or African American. The Happy Valley sex ratio is a near-perfect split of 50-50. The median household income in Happy Valley is $125,676, making it one of the most affluent suburbs of Portland.
2. Cost of Living in Happy Valley, OR
How much does it cost to live in Happy Valley, OR? The average cost of living in Happy Valley is 43% higher than the national average and 30% higher than the Oregon state average. Healthcare costs tend to be lower in the area but new residents should plan on paying higher prices for food, utilities, transportation, and the Happy Valley real estate market.
The homeownership rate in Happy Valley is 83.1%, which means it's much more common for people to buy their homes in this city. Local Happy Valley, OR homes for sale are pretty affordable considering the city's median household income. The average price of a home in Happy Valley is $649,000.
The Happy Valley property tax rate is 1.020%, which is about $6,620 in annual property taxes for a $649,000 home.
While less than 17% of people residing in Happy Valley rent, there are still leasing options available around the city. The average price of rent in Happy Valley is $1,250 per month, which has seen a significant increase of 32% in the past year.
3. Happy Valley Neighborhoods
The crime rate in Happy Valley is 49% lower than the US average and the violent crime rate is 68% lower as well. Residents living in Happy Valley have a 1 in 79 chance of becoming a victim of a crime. While any city has its unsafe communities, Happy Valley is a safe place to live.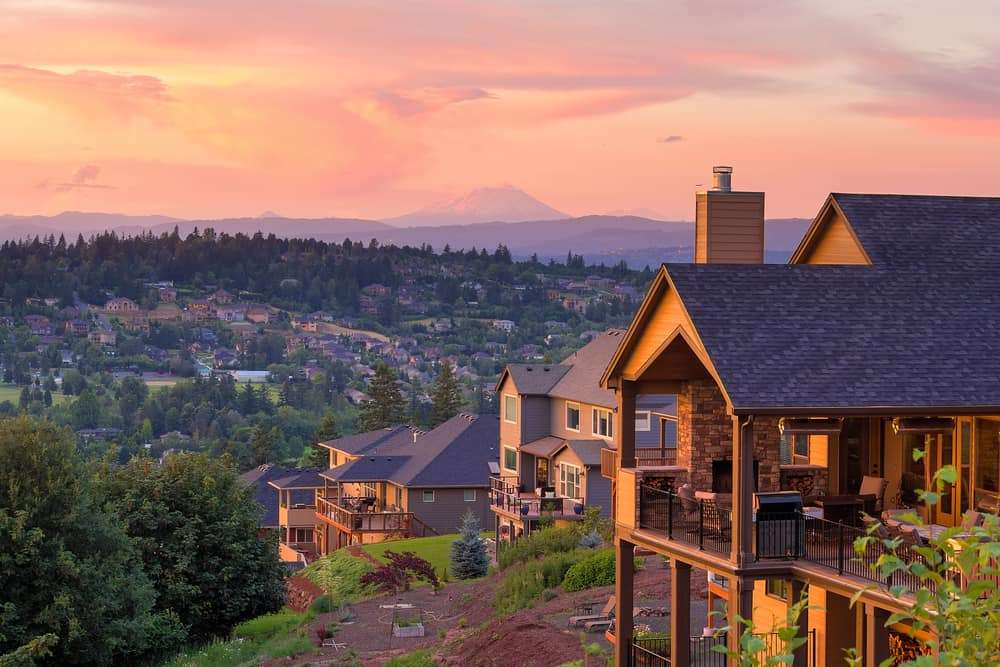 Where should you live in Happy Valley? A few of the best Happy Valley neighborhoods are:
Pleasant Valley

Rock Creek

Scouters Mountain
Covering an area of about 11.58 square miles, Happy Valley is located along the northern border of Clackamas County. People moving to Happy Valley will have a zip code of either 97015, 97045, 97086, or 97089. Local Happy Valley phone numbers have a 971 area code. Here is a Happy Valley, OR map.
There are lots of great shopping destinations in Happy Valley including Walgreens, Target, Clackamas Town Center, Walmart, Safeway, and Johnson Creek Crossing.
4. Happy Valley, OR Weather
There is a Mediterranean climate in Happy Valley, leading to mildly muggy temperatures and a decent amount of rain each year.
The average temperature in Happy Valley during winter is between the mid-30s and upper 40s. Summers in Happy Valley warm up to temps between the mid-50s and mid-80s. Happy Valley weather brings about 48 inches of rain per year.
5. Things to Do in Happy Valley
From Happy Valley attractions to beautiful points of interest and other fun places to visit, there are plenty of great things to do in this city.
View this post on Instagram
One of the top outdoor activities in Happy Valley can be found at the appropriately named Happy Valley Park. The open space offers visitors access to picnic spots, sports facilities, beautiful views, and a local skate park.
Happy Valley Park, 13770 SE Ridgecrest Rd, Happy Valley, OR 97086  (503) 783-3800
If you're looking for a great place to visit in Happy Valley during the summer, North Clackamas Aquatic Park is one of the top spots to cool off. The center features multiple water slides, a wave pool, and other fun activities like a rock wall.
North Clackamas Aquatic Park, 7300 SE Harmony Rd, Milwaukie, OR 97222  (503) 557-7873
Additional Major Happy Valley Attractions
6. Happy Valley Restaurants
Newcomers will have plenty of options when it comes to top-rated restaurants in Happy Valley, OR.
View this post on Instagram
Ranking among the top Happy Valley restaurants, Hops n Drops is the place to go if you want a big, juicy burger. With a list of delicious burgers, wings, wraps, sandwiches, and other options, you'll never leave this place still hungry. They also have a great selection of craft beers, cocktails, and other refreshing drinks.
Hops n Drops, 17155 SE Sunnyside Rd #152, Happy Valley, OR 97086  (503) 427-2523
One of the best places to eat in Happy Valley is Biscuits Cafe, which boasts some of the best American food in town. Their mouthwatering menu has numerous choices for every taste including salads, fish & chips, chili, fresh sandwiches, fish tacos, and more.
Biscuits Cafe, 9201 SE 91st Ave #100, Happy Valley, OR 97086  (503) 777-2800
7. Jobs in Happy Valley
As per Salary Expert, the average salary in Happy Valley is $52,000 per year with a state income tax rate of 9%. There is a 6% unemployment rate in Happy Valley.
Though there aren't a ton of Happy Valley jobs in the city, plenty of options are available in nearby towns as well. The best places to work in Happy Valley include:
Lands End

Wilbert

New Community

Heffernan Group Foundation

General Growth Services
It is quite common for local residents to travel for work from Happy Valley to Portland, which covers about 10 miles 25 minutes each way depending on traffic.
8. Happy Valley Schools
About 5,662 kids between the ages of 0 and 18 years old are living in Happy Valley, making up more than 27% of the city's population. Most locals feel that Happy Valley is an excellent place for families to live due to its safety and strong educational programs.
Part of North Clackamas School District 12, the top Happy Valley schools are:
Happy Valley Elementary School

Scouters Mountain Elementary School

Happy Valley Middle School

Rock Creek Middle School
Nearby Happy Valley colleges and universities include Reed College, Warner Pacific University, as well as Lewis & Clark College, all of which are located in Portland.
Living in Happy Valley Pros & Cons
Pro:

One of the safest suburbs in Portland, offering residents peace of mind.

Pro:

Local residents enjoy a variety of great restaurants and fun things to do in Happy Valley.

Con:

The cost of living in Happy Valley is higher than in many other parts of Oregon.
Moving to Happy Valley, OR
There are so many reasons to move to Happy Valley, making it a popular destination for families, seniors, and everyone in between. If you need reliable Happy Valley movers, rely on the friendly team at PDX Movers. Contact us today at 503-746-8795 or submit the Request a Quote form on this page for a free moving estimate!